The site of the Independence Palace has had much history played on its location.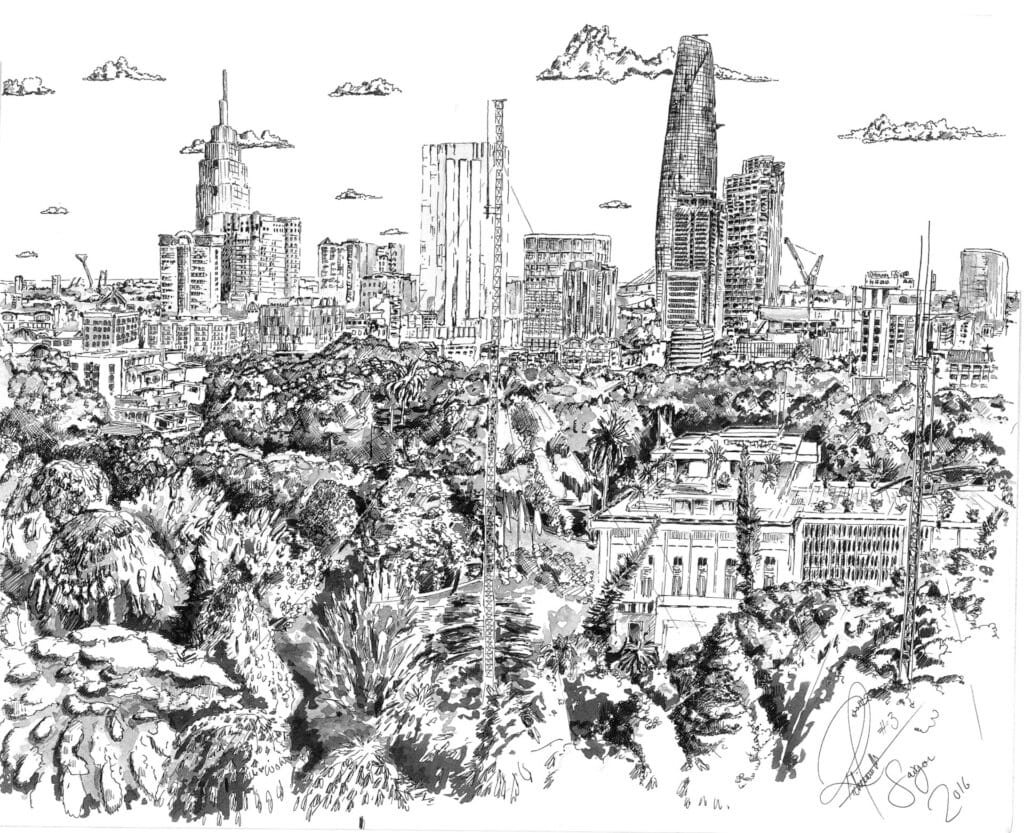 View of the Reunification Palace, Saigon, Vietnam drawn in 2016 – Richie Fawcett
In 1868 the Governor of Cochinchina laid the first foundation stone for the new palace to replace the first wooden one. The palace was completed in 1873. Initially known as the Palace of the Government. It was renamed in the early 20th Century as the Norodom Palace, after the king of Cambodia, Norodom (1834 – 1904).
From 1871 to 1887 the palace was used by the French Governor of Cochinchina. From 1887 to 1945 the Governors General of French Indochina, based in Hanoi, used the palace as the official residence in the South. For a brief period the Japanese occupied the palace towards the ed of the second world war.
After September 1945 it fell back into French hands for the last time. In only 9 years, after the defeat and withdrawal of the French, the country was divided along the the 17th Parallel and Southern Vietnam was handed over to President Ngo Dinh Diem. After 1955, he used the palace as his official residence. However the old palace was bombed in 1962 and a new one had to be built in its place. The new independence palace, the current building, was opened in 1966.
Another bomb attempt was made on the independence Palace early in 1975, but not much damage was done.
At 10:45 on 30th April 1975, a tank from the North Vietnamese Army drove through the main gate, ending the Vietnam war.
COCKTAIL
Inspired by the coconut sellers that offer refreshing ice cold coconuts for sale around the streets that surround the palace.
INGREDIENTS
40ml Vodka, 25ml Pineapple Juice, 15ml Coconut Syrup, 10ml Apple Cider Vinegar.